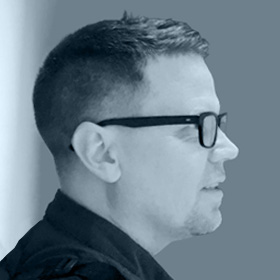 I'm a multidisciplinary design leader with deep practice in both visual and verbal systems. I've led strategic brand, website and product initiatives for a broad range of clients across industries.
Working closely with diverse talent, I have led corporate identity redesigns, large-scale website launches, and prominent service/product campaigns, to name a few. Most recently, I've consulted as a design leader for an array of agencies and companies, including Adobe, Awasu Design, Emotive Brand, Goodbye Silverstein & Partners, Linus, MapBox, Q Bio, Propane, and Zelle.

I'm a Silicon Valley native now living in San Francisco. I miss hearing crickets on warm nights.
KEY CAPABILITIES
—
Brand identity
Brand positioning
Brand strategy
Brand workshops
Design systems
Art direction
UX, IxD, IA, UI
Customer journeys
Website design
Environmental
Iconography
Illustration
Messaging
Copywriting
Motion design
Typography
Team management
Client relations

EXPERIENCE
—
Creative Director & Design Lead
Independent consultant
Nov 2017 - Present

Design Director
MetaDesign
Jun 2011 - Nov 2017

Lead Designer
MetaDesign
Jan 2008 - May 2011

Freelance Design Lead
Various technology companies
April 2007 - Dec 2007

Lead Designer
Phoenix Technologies
Feb 2006 - Mar 2007

Lead Designer, Contract
Stanford University
Jun 2005 - Jan 2006

Visual/UI Designer
McGraw-Hill
March 2004 - May 2005

EDUCATION
—
BFA
University of California,
Santa Cruz

Stanford extension, UX/IxD


CONTACT
—
geoffreyjohn.com
408.205.7029
linkedIn / instagram
PAST CLIENTS
—
ABB
Adidas
Alteryx
AOL
Autodesk
Cognizant
Earth Friendly Products
Exploratorium
InFocus
Inkling
Intel
Intrax
Intuit
Johnson & Johnson
Julius Baer Group
Keyssa
Kia
Kohler
LG Electronics
Lotte
McAfee
McGraw-Hill
Migros
Millipore Sigma
Motorola
NTT Data
Samsung
Sony
Stanford University
TrueFacet
UCSF
VF
VW

KEY ATTRIBUTES
—
Stylistically-agnostic, strategic design approach

Left-brain + right-brain problem-solver

Persuasive presention, client relations, advocate for creative

Uncover opportunities for taking brands further

Inspire team members to deliver stellar work

Deliver unified visual systems for print and digital media


PASSIONS
—
Coastal savanna
French new wave
Phat beats
Desert dunes
Off-road driving
Letterforms
Numeral 7


PEEVES
—
Bad wayfinding
Clunky software
Scented detergent
Biting wind
Missing fonts
Frozen food
Bald tires
.